The Exec | 15712 N Pennsylvania Ave | Suite 5
Executive Office Space For Lease w/ 1 Office, Conference Room, Kitchenette, 2 Restrooms
office suite / executive office
Rent displayed is Year-1 Rate without any applicable buildout adjustments. Annual rent escalations may apply. CAM rates advertised are current but subject to annual adjustment.
Total Estimated Monthly Expenses
Month 1 Rent (Pro-rated if lease doesn't begin on the 1st)
Total Estimated Move-in Expenses
** Utility activation fees also apply. Fees will vary by applicant's credit and history with the respective provider.
This single office space for rent is 209 SF and is a perfect office space for a small business. Suite 5 is one of four executive offices in The Exec at Main Street that features a wood door with a glass window for a larger interior signage opportunity. This suite includes carpeted floors, high ceilings, and a closet. This office space is unfurnished allowing each tenant to bring their own personality to their own individual suites. All executive suites in The Exec include all utilities in the rent price (including internet, both wireless and hardwired).

Tenants are able to access their office suite at The Exec 24/7 with key card access. Safety features include the exterior back entrance door always being locked (but available with key card access at all times). The front entrance door to the building is unlocked for tenants and their guests from 8 a.m to 5 p.m. Monday through Friday, with the tenants being able to access the building after hours with their key cards. Each suite also receives its own key to lock its office doors.

Tenants also have on-site conference room access with an online booking system. The conference room features 8 chairs, a TV and a whiteboard. Tenants are able to stream powerpoints, presentations, etc. to the TV in the conference room via Apple TV or PC HDMI hookups.

The conference room is located directly across from the on-site kitchenette/coffee bar for ease of access to refreshments for their meetings.


SPACE LOCATION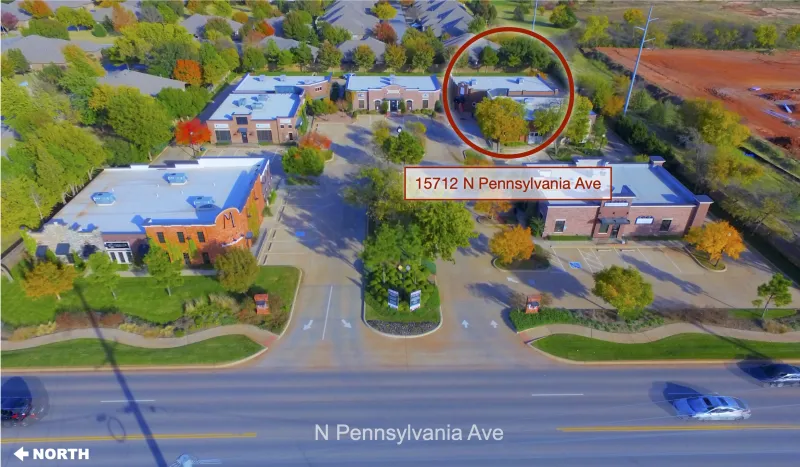 PARKING
Step into a charming slice of yesteryear with our Main Street Business District development. As you arrive, you'll be greeted by convenient guest parking spaces located right in front of the Main Street Buildings, evoking memories of strolling down an old-fashioned downtown street. As a tenant, you'll have designated parking located on the east end of the development, tucked behind the 15712, 15808, and 15812 buildings. With easy access to both guest and tenant parking, you can focus on your business without worrying about where to park.
Can't find the space you're looking for?
Get notified by text or email when spaces become available!
Subscribe now