15820 N Pennsylvania Ave | Suite 3
Office Suite Space For Lease w/ 3 Offices, Conference Room, Kitchenette, 1 Restroom
USE
STATUS
office suite
Leased
3 Offices
Conference Room
Kitchenette
1 Restroom
SPACE DESCRIPTION
If you've been googling "office space for rent near me" or "business space for rent near me", then you have officially found your final destination and the perfect home for your business.

The Suite 3 office space in the 15820 building is the perfect office space for lease for your business. This 1,841 SF office suite faces one of the most-travelled stretches of road in Northwest OKC / West Edmond. With more than 23,000 cars passing by each day, Suite 3 is an ideal office space for rent in North OKC or West Edmond.

This suite features 3 large offices, a spacious conference room, large reception, a kitchenette and a storage/print area. This office suite is also one of the only office spaces for rent at Main Street that has two exterior entrance/exit doors that provide both Penn frontage and access from the development's parking lot. The Penn frontage amenity also gives this suite an additional signage opportunity on Pennsylvania Avenue.

Your search for commercial office space for rent in OKC is complete. Welcome home to Main Street Business District.

VIRTUAL TOUR
SPACE LAYOUT
SPACE PHOTOS
SPACE LOCATION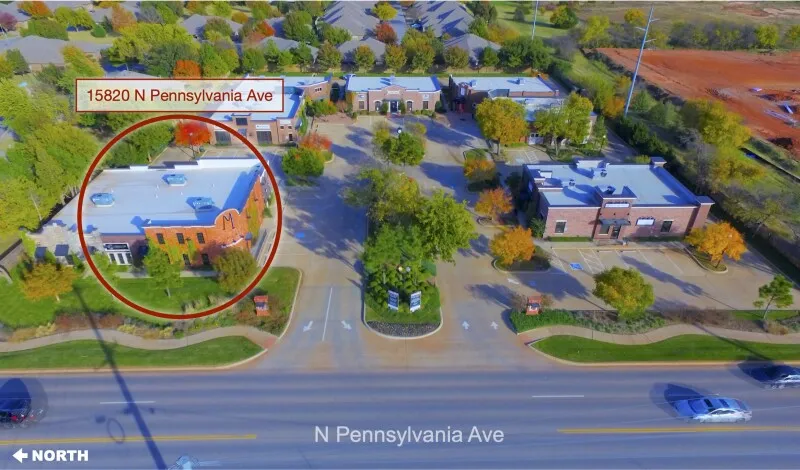 PARKING
Reminiscent of an old downtown Main Street, the center of the development provides guest parking spaces directly in front of the Main Street Buildings. Tenant parking is located on the east end of the development, behind the 15712, 15808 and 15812 buildings.
Can't find the space you're looking for?
Get notified by text or email when spaces become available!
Subscribe now