15812 N Pennsylvania Ave | Suite 1
Office Suite Space For Lease w/ 2 Offices, Conference Room, Kitchenette, 3 Restrooms
2 Offices
Conference Room
Kitchenette
3 Restrooms
SPACE DESCRIPTION
This office space for rent at Main Street Business District consists of 1,571 square feet. This office suite is one of the three office suites available in the 15812 building and shares common areas such as the reception, hallways, restrooms & kitchenette.

Suite 1 features one large, enclosed office and one smaller, enclosed office. This office space also includes three designated workstations, a reception area within Suite 1, and a dedicated conference room. The large executive office within Suite 1 features wood flooring, built-in wood shelves, and a built-in bookcase. The executive office also includes its own personal restroom. The rest of Suite 1 features stained concrete floors and brick walls along with an open concept area for additional desk space or co-working space.

The marketed lease price for the office space for rent includes electricity. Tenant is responsible for their own communications. Common Area Maintenance charges are also reflected in the current marketed lease rate and cover property taxes, property insurance, property insurance, property maintenance, trash, and water. CAM charges are based on a yearly amount and are subject to change on a yearly basis.

VIRTUAL TOUR
SPACE LAYOUT
SPACE PHOTOS
SPACE LOCATION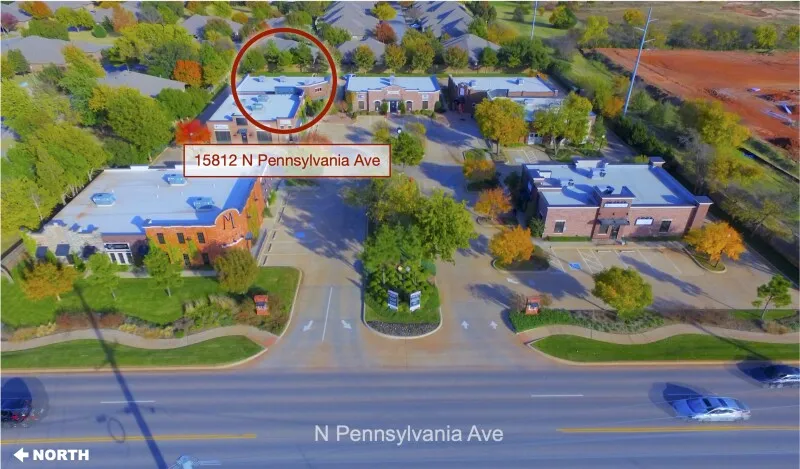 PARKING
Reminiscent of an old downtown Main Street, the center of the development provides guest parking spaces directly in front of the Main Street Buildings. Tenant parking is located on the east end of the development, behind the 15712, 15808 and 15812 buildings.
Can't find the space you're looking for?
Get notified by text or email when spaces become available!
Subscribe now